Werken bij IdentIT? Da's samenwerken, je talenten verder ontwikkelen, je thuis voelen, je eigen pad kiezen, deelnemen aan toffe teambuildings en nog zo veel meer.
Ons team verwelkomt graag nieuwe talenten. Bij de verdere uitbreiding van ons team kunnen jouw recruitment skills zeker van pas komen! Zie jij jezelf al werken in ons IdentITEAM? Lees dan snel verder!
Ben jij de talent acquisition lead waar we naar op zoek zijn?
Jobomschrijving
Als IdentIT Talent Acquisition Lead is het jouw missie om continu nieuwe talenten te vinden en aan te werven voor ons team. Hiervoor mag je gebruik maken van diverse arbeidsmarktkanalen en krijg je de vrijheid om innovatieve wervingsacties te bedenken. Om het juiste talent te vinden durf je out of the box te denken. Ervaren Identity & Access Management profielen worden door jou overtuigd om bij ons team te komen en schoolverlaters maak je enthousiast voor een opleiding in onze eigen academy.
Een cultural fit tussen de kandidaat en het bedrijf is voor ons enorm belangrijk. Jij spot meteen of een kandidaat beschikt over het juiste IdentIT DNA. Zodra je nieuwe talenten gevonden hebt, zorg je voor een uitstekende candidate experience. 
De talenten die je gevonden hebt voor ons team worden door jou ook in de watten gelegd. Zo zorg je bijvoorbeeld bij onze Unconferences (technical nights) voor een epic aankleding en je verrast het team met een eindejaarscadeau, een paaspakket,…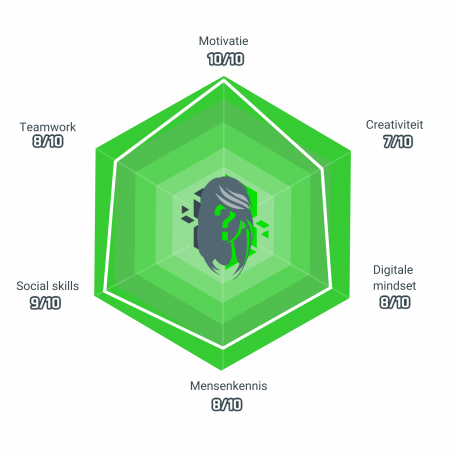 Werving en selectie van verschillende profielen
Leiding nemen over het gehele recruitmentproces en coördinatie van een continue stroom van talenten samen met een collega
Optimaliseren en professionaliseren van recruitmentprocessen
Contacten leggen en onderhouden (netwerkbijeenkomsten, social media,..)
Van onze office een toffe werkplek maken 
Een afgeronde bachelor (of gelijkwaardige ervaring)
Digitale mindset en werkwijze
Creativiteit in recruitment acties
Je kan je identificeren met de IdentIT cultuur en wilt deze ook zelf uitdragen en bewaken
Een grote dosis motivatie en leergierigheid
Wat hebben wij jou te bieden?
The usual stuff; een marktconform loon, een bedrijfswagen, extralegale voordelen zoals een maaltijdvergoeding, een hospitalisatie- en groepsverzekering en 12 ADV-dagen.

De mogelijkheid om deel uit te maken van een een groeiend dynamisch bedrijf. Er zijn dus ook voor jou doorgroeimogelijkheden.

Een tof team dat minstens één keer om de twee weken samenkomt op een Remote Working Day en ook regelmatig stoom aflaat tijdens allerlei team events (barbecues, karting, LAN parties, Unconferences, short-ski, , enz.). Benieuwd hoe dat er aan toe gaat? Bekijk dan zeker eens de aftermovie van onze laatste track day!

De vrijheid om enkele dagen per week remote te werken. Je deelt zelf je week in met een perfecte mix van thuiswerkdagen en office days.

Een non-stop leer- en groeiproces dankzij opleidingen, nationale en internationale beurzen, conferenties en kennisdeling op kantoor.

De perfecte combo van de voordelen van een kleiner bedrijf én een grotere organisatie (aka De Cronos Groep). We hebben een vlakke organisatiestructuur maar profiteren tegelijk van de schaalvoordelen die een groep van 600 bedrijven en bijna 8.000 medewerkers ons kan bieden.

Het Cronos Care-pakket: een uitgebreid pakket met gratis aanbiedingen, voordelige prijzen en leuke kortingen op van alles en nog wat, in combinatie met een mobiliteitspakket én leuke bedrijfsevents.
Over IdentIT
IdentIT is een internationale speler (Benelux) wat betreft de implementatie van Consumer Identity & Access Management projecten aan de hand van verschillende technologiën. We tellen vandaag twintig IdentIT'ers en willen dit graag verdubbelen tegen 2024 door middel van onze eigen Academy in combinatie met een geweldige recruiter die onze groei kan ondersteunen.
HOW TO BECOME AN IDENTIT'ER
STEP 1
Meet your new colleagues
Ask them all your questions and find out if you see yourself working in a team with them.
STEP 2
Get to know the management
Meet the founders of IdentIT and discover if you'll fit into our company culture.
STEP 3
Let's see what you're made off
We've decided you'll be a good fit in our team, now let's see what you already know and what you want to learn.
STEP 4
Let's make it official
Yes, we found the perfect match! Let's discuss your expectations and put all our agreements on paper.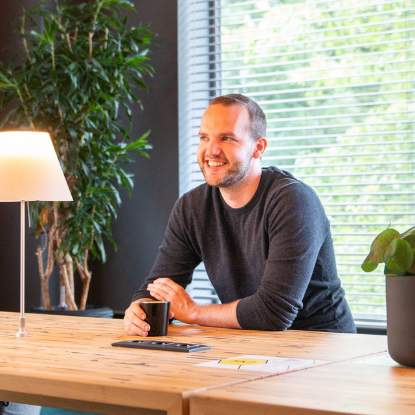 One of the benefits of working in the consultancy business is being able to build up a lot of experience very rapidly. Facing new challenges every day which sometimes require a creative solution has become routine business.
Read more »