Join our team
Ready to reach your full potential?
IdentIT is a Consumer Identity and Access Management (CIAM) focused company. Our mission is to enable our client's consumer identities in the digital world whether these are customers, other companies, or citizens. As we continue to grow and expand our offerings, we are looking for talented professionals to join our team.
At IdentIT, we are dedicated to helping our team members achieve both personal and professional growth. Whether you're an IT pro or just starting out, we give you the opportunity to develop your skills and excel in your areas of expertise. We value continuous learning, teamwork, and supporting each other's growth, because we know that together, we can achieve even greater things. Plus, we have a lot of fun along the way – after all, why shouldn't work be enjoyable? If you're ready to take your career to new heights and reach your full potential, join the IdentIT team and be a part of our CIAM success story.
Our perks
Why you should join us
01
Learn from our experts
Learn from our mentors and get the most out of your talent!
02
Feel at home
Work with colleagues with whom you have more in common than just your job.
03
Coworking
Enjoy a monthly remote work day at our headquarters, working on projects combined with a lunch at a nice place with the team.😉
04
Choose your own path
Whether you want to be the best architect, technical consultant or advisor. Choose your own path, IdentIT has your back.
05
Team on the move
Be part of our team events such as ice karting, paintball, BBQ's and lots of other fun team activities!
06
Strengthen your talent
Excel in what you're good at and choose your courses together with us.
HOW TO BECOME AN IDENTIT'ER
STEP 1
Connect with your future colleagues
Have a conversation with your potential colleagues and ask them all you want to know. See if you can picture yourself working together as a team.
STEP 2
Discover our company culture
Engage with the founders of IdentIT and discover our company culture to determine if it resonates with your own values and aspirations.
STEP 3
Let's see what you're made of
We believe you'll be a great addition to our team. Now, let's see what skills you already have and what you're eager to learn.
STEP 4
Let's make it official
Yes, we found the perfect match! Let's talk about your expectations and put everything in writing to formalize our agreement.
GET TO KNOW THE OTHER IDENTIT'ERS​
Meet our team
We asked our team members some of the most common questions we get from people in your shoes. Here's what they had to say about life (and work) at IdentIT.
Current job openings
We're hiring!
IdentIT is hiring! We are currently seeking talented individuals to join our team. If you have a passion for IT and are looking for an exciting new opportunity, we want to hear from you. We have multiple openings available, so don't hesitate to apply. Become part of our success story.
We are looking for multiple CIAM (Consumer Identity and Access Management) consultants to join our team. The ideal candidate has some experience in implementing CIAM solutions and a desire to help organizations to improve their consumer journeys, whether these are for customers, citizens or partners.
Do you want to help companies improve their customer experience or do you have a passion for implementing CIAM solutions? If so, we want you! You'll get the chance to work with clients and help them to improve their consumer journeys.
We are looking for a Technical Team Lead to manage two self-developed applications at one of our clients. In this role, you will be responsible for working with the client, leading the team, to translate business needs into technical stories, to futureproof the design, and to provide 3rd line support and maintenance together with your team.
Think you lack experience?
Discover our academy!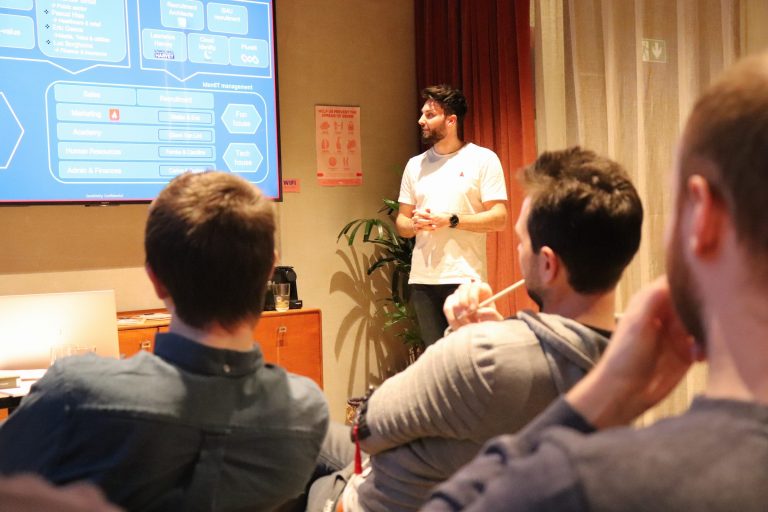 Academy
Are you eager to get acquainted with Consumer Identity & Access Management (CIAM), but unsure about applying because you think you lack background on this matter? Good news – we've got you covered in our IdentIT Academy!
Spontaneously apply for a job?
We would love to meet you
Do you think you can add value to our team, but is there no vacancy that appeals to you? Should your job title be invented yet? Feel free to contact us!
Career